Height: 30′
Diameter: 1.5″
Cold Resistance: 0 F.
Light:Sun to moderate shade
With it's semi permanently attached sheaths  and short limbs at the top of the canes Temple bamboo looks like no other. The culms are straight with no bend to them and very short limbs and is sometimes called bottle brush bamboo. Canes are very thin walled and have very little strength.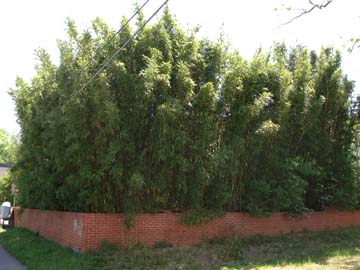 The grove above of Semiarundinaria fastuosa was located in Birmingham, Al at an old fire station. It has been cut down even though it was in control. The growth you see here is only about 4 to 5 feet thick, growing along the wall and behind is a paved parking lot. It is confined between the two and has been for years. I suspect it could have been planted by Steve Ray as he was a fireman for the city of Birmingham.
UPDATE – This image is a few years old. I visited this site recently and found all the bamboo had been cut down. There were a few canes (small) still around the edges but most is now gone. The fire station is no longer in use. Such a shame that a pretty grove of bamboo has been eliminated. I'm hoping they will leave the site alone this summer and the bamboo will have a chance to re-establish itself.