Maximum heigth 54′
Maximum diameter 3.5 inches
Cold hardy to 0 F.Phyllostachys nigra 'Megurochiku'
This is one of my favorite "giant" bamboos. Supposedly the canes get to 3 and 1/2 inches in diameter but my grove has a few canes almost 4 inches in diameter. It can be easily mistaken for Giant Gray Henon bamboo with grayish green culms. The difference is this bamboo has occasional dark brown to black stripes on the culms.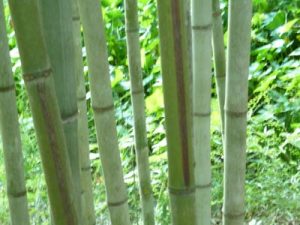 My grove of Megurochiku took several years before any stripes were noticeable. Although the grove is over 10 years old with many mature canes only a few have the black stripe. On others the stripe is barely visible and on many there is no sign of a stripe.